German Oxford
Research Campus Berlin-Dahlem – Excellence with Tradition
In the late 19th century, the crown property Dahlem located in the Southwest of Berlin became a focus of interest in the Prussian science policy and regional planning of the time. Due to the lack of space in the city, the Botanic Garden and Botanical Museum of Berlin were moved to Dahlem in 1897, finding excellent conditions to grow (today, the Botanic Garden is part of Freie Universität Berlin and one of the world's most important gardens).
At the initiative of Friedrich Althoff, Director General in the Prussian Ministry of Culture, a unique neighborhood of research institutes was established in Dahlem. Althoff's vision of a "German Oxford" was taken on by the Kaiser Wilhelm Society (KWG), founded in 1911, which was the precursor of today's Max Planck Society. It commissioned many impressive new buildings in Dahlem to house its various institutes.
The research of the Kaiser Wilhelm Institutes was recognized with several Nobel Prizes – for example for Max von Laue (1914), Fritz Haber (1918), Albert Einstein (1921), and Werner Heisenberg (1932). After the Nazis seized power in 1933, however, several institutes carried out projects in support of the régime's war aims and racial ideology.
In 1948, the newly founded Freie Universität Berlin took over the buildings of many of these institutes from the Max Planck Society, for example, the Hahn-Meitner Building, which had been the Kaiser Wilhelm Institute of Chemistry.
from: https://www.fu-berlin.de/en/sites/inu/regional/german-oxford/index.html
Harnack-Haus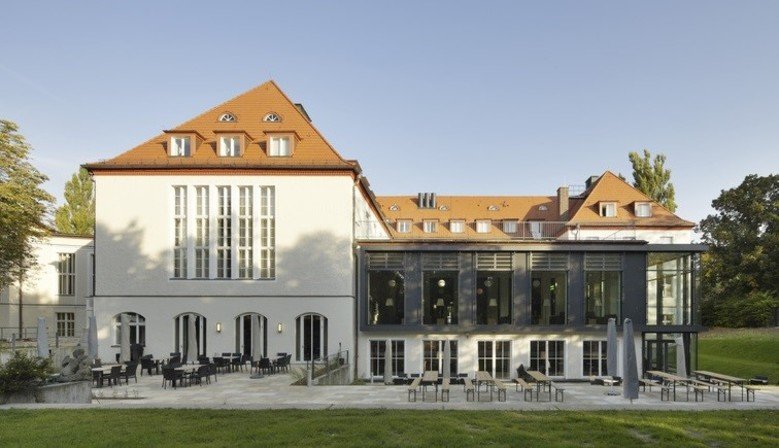 © Andreas Muhs
The Harnack House is located in the center of the "German Oxford" in Berlin, which is characterized by excellent scientific institutions. Established in 1929 as guest house and conference venue of the Kaiser Wilhelm Society in Berlin-Dahlem, it distinguished itself, particularly in the early years, quickly as an international scientific club. It hosted prominent scientists, artists, politicians and industrialists and was place of important political and public events. After its return to the Max Planck Society through the U.S. armed forces, that used the house as an officer's mess until 1994, it is since 2000 the conference venue of the Max Planck Society.